Ross Marshall's 'Dorian Gray' MemoryLane!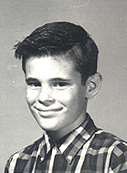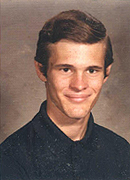 ? see below!
1965 1969 1972 2012
A Real 1965 'Song Of the South' Southern Boy! An Out of this world Spacey 1969 Apollo Boy; A 72' Jar Head! And, now a 1/4 Bauld Headed...
My name is ROSS MARSHALL and I am an Actor, Writer, Artists, Animator-Cartoonist. I was born and raised in a little town in Texas called Bridge City. A little "po-dunk town" of red-necks and oil refineries: A real nice place for a born artist to grow up in.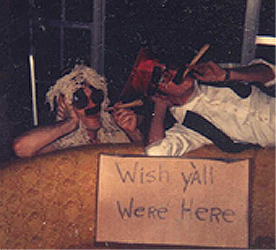 My brother and I were born clowns! And we loved imitating TV personalities!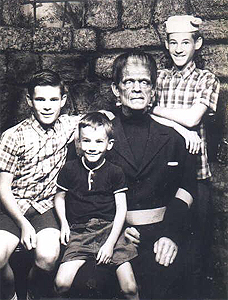 When I was 8 years old the parents took a Vacation to California and other States. In Hollywood, we went to the sights along Hollywood Blvd., and this is where I met Franky! He really Waxually impressed me and from that time on I wanted to go live in Hollywood and work for DISNEY as a cartoonist.
I began drawing in school in the art contests and found I was real good at it. At least that's what ''they'' said! My Mom and Dad were very supportive about my interests, yet Dad warned me about the art field - "Ya' can't make a very good living! Try Auto Mechanics! But he let me have my artistic way! After all, they clowned around in theatre and local plays themselves! Well, later in life I compromised and learned both vocations - sense my car kept falling apart all the time anyway!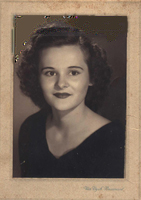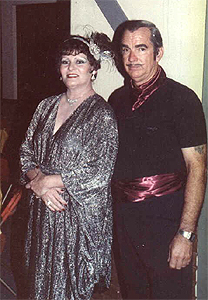 MOM in the 1940's! 1980's
Here's Mommy, Isn't she a Sweet-Cake? And Pops! Mom always wanted to be an Actress and did a lot of stuff as a young pretty girl in the 40's - 1942-1948 as a Meldemaid Dancer-- traveling to New York and all the other major Cities of the world in her dance troup. Here they are later in a play in Saudia Arabia!
Anyway, when I turned 19, I left for California to work in the animation studios. After some major strife with the Folks, they let me go and I packed my 1948 Plymouth and left Texas for California! I arrived in L.A. in 1974 and went to work for Hanna Barbara Studios. Here I am ready to leave Texas... Here i am driving down Hollywood Blvd. [pfffffff !!!! What a liar!!! It was a 1969 El Cameno! He bought the 48 about 10 years later!!! ]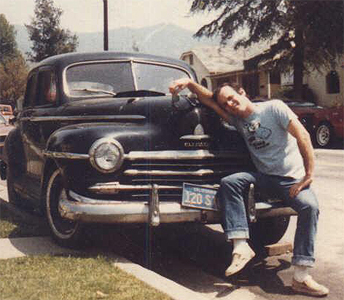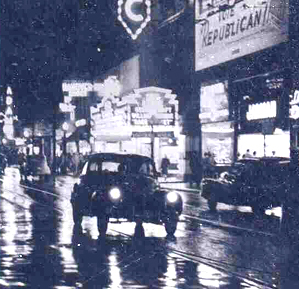 I worked on Dino Mutt, Jabber Jaws and other low budget Saturday Morning cartoon crap and moved around a lot to the many studios about Hollywood. Here I am working on a feature cartoon with my Animator. I was his assistant!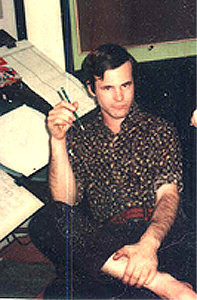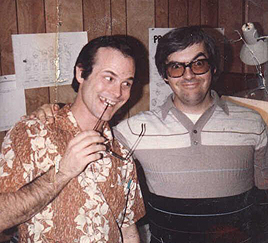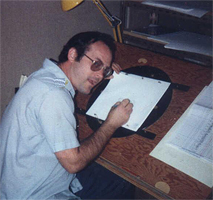 Here I am as a 23 year old Hollywood jail bait working at the Studio. Later, after a few years and many studios, and tons of hambergers!, I met Chuck Harvey, an Ex-Disney Animator and work under him for a year. He really taught me a lot and I will always remember him! If there ever was a FACIAL EXPRESSION to be had, he could do it! I learned even more on how to be a CLOWN! I worked in the field for 20 years on many shows such as AMERICAN TAIL, and SWAN PRINCESS, etc...and finally decided to give up animation - since it was being sold over in contracts to foreign countries. Course, that left us all on the streets! Then, CGI came in and made us all obsolete!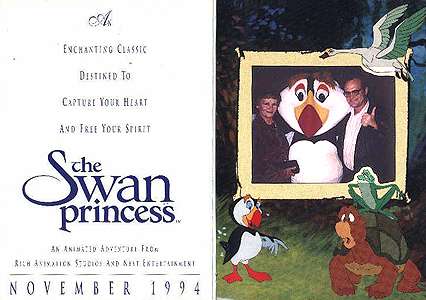 Me and MOM at the Screening of SWAN PRINCESS!
Anyway, this left us all unemployed! So I dropped out and picked up LIVE ACTION as an actor! I met Daryl Carstensen at Don Bluth's Studio on AMERICA TAIL, and became good friends with him. He loved MOVIES and Live Action and told me he loved shooting films. I was intrigued and said, that with all the animation going over seas, we should start a Live Action Studio,.... and so we did!
For the years since I arrived in L.A., I attended 4 Colleges: CALIFORNIA INSSTITUTE OF THE ARTS and the Disney Animation Program, MASTER"S COLLEGE, COLLEGE OF THE CAANYONS, Valencia and CAL STATE NORTHRIDGE; and earned 332 Credit units in art, science, history and writing. I obtained an Associates Degree and decided I had had enough of Scholasticism (school). [ Wish I had just stayed in!!!!!!! ]
During this period Daryl and I Incorporated in 1994 as PLUTONIUM FILMS PRODUCTIONS, INC., and began our quest of shooting Live Action Movies. I had all the school knowledge and training I needed to be his best Film Maker Partner!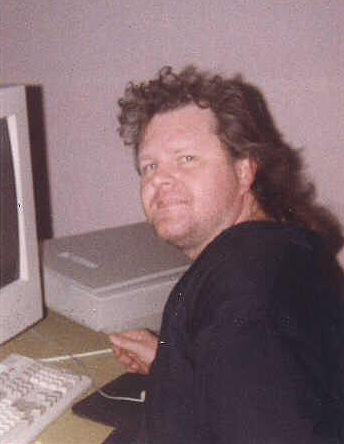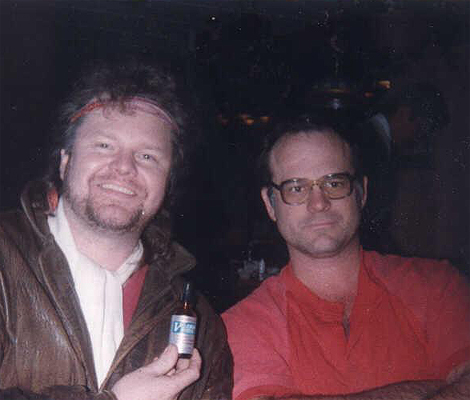 DARYL CARSTENSEN, President of Plutonium Films, Inc.
Hollywood was great! I loved the lime-light and the celebrities. I even met the Queen of England and got her autograph! [ LOLOL ! pfffff! Really???]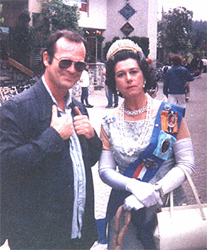 So, the first thing Daryl and I did was write up some scripts to shoot. Some real low budget film titles such as: DE-LIVER-ME, UN-NATURAL BORN KILLER, ZOMBIE GANGBANGERS, ATTACK OF THE VIRGIN MUMMIES, etc. SEE: http://www.weirdvideos.com/horror.html
In our shows we hired such great beauty Screem Queens as Stephanie Beaton and Kit Natividad.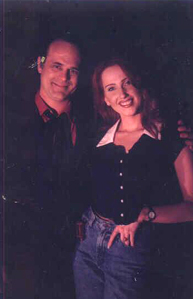 Stephanie Beaton and I played the lead rolls in UN-NATURAL BORN KILLER ... [ Nope! She did not give any thing up, folks!!!! lol]
We made a real out-ragous Gore film! The ravings from the fans across the country attest to the horribleness of this classic trash film - a.k.a. Now called ''SNUFF''.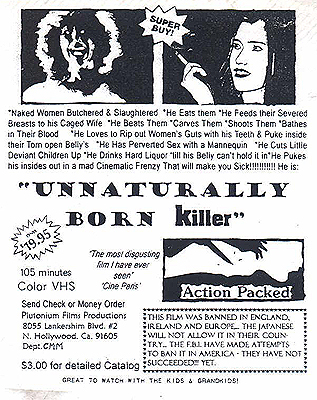 Kit was a great lady to work with. We hired her to play the Bar Owner, Lady of the House and Stripper! She was great and a BIG Star too. Big in more ways than just acting! Look at the size of her! A real Russ Myer Beauty Queen!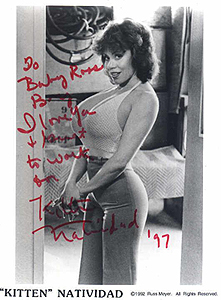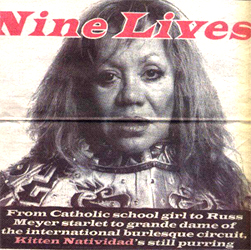 KITTEN in her Younger Years............Kitten in Later years in ZOMBIE BANGBANGERS.
Presently, we are now working on more films: THE THING FROM MARS, TRIUMPH OF THE GODS, and a few others. I am still acting, writing, drawing, storyboarding, and creating Special Effects for our films!
I also am a musician and play what is called a THEREMIN.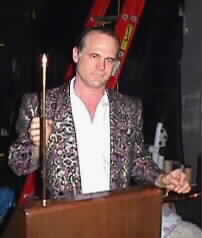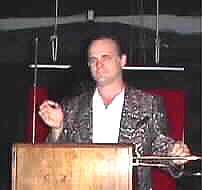 SEE ME AND MY THEREMIN AT: http://www.weirdvideos.com/music.html
Besides playing the Theremin, I also collect, repair and sell Philco Televisions! http://www.wadictatv.com
PS. UPDATE: I am now retired ( forced into it!) living in Anacortes, Washington State, in a large motor home - cuz the economy is falling apart. But, the river is such a dream, I cannot devource myself from fishing!
I now volunteer at the Antique Radio and electric Museum in bellingham as an antique tuve repair technician. http://amre.us/listen